Winter is a lovely time for a European holiday and the cold months are perfect for long vacations. If you plan a backpacking trip in December to Europe, you cannot miss the festive spirit in any country you visit. The best winter destinations in Europe get a lot of snow from November or December till January. Therefore, these cities look magical in winter. However, if you do not want to travel through snowy roads, you can choose warmer destinations. Some of the best cities in Europe to visit in December are located in warmer countries. Europe has destinations for every kind of backpacker in winter, and you will have a great experience exploring these places.
Why Should You Visit Europe in Winter?
There are many reasons to visit Europe in winter. One of the significant reasons is Christmas and the festive season. European winter destinations deck up in Christmas lights, and every bakery offers sweet treats and delicious cakes for the season! Another reason is that some cities look gorgeous in winter. For example, Hallstatt Austria in winter is a sight to behold. In December, you will enjoy exploring the sights, having fun in the snow, and backpacking across the city. Now, for backpackers, there is another reason to visit Europe in winter: the weather.
While you may get to see snowstorms in some countries, other countries are cold yet pleasant. You can also visit the warmest country in Europe in December, which is Portugal, and instead of sweltering heat, you will get cool weather perfect for sightseeing. If you are backpacking, you will be walking or using public transport. Therefore, if the weather is excellent, and if you like snow or cold weather, then European cities are the best destinations. 
Best European Destinations for Backpackers in Winter
Backpackers can visit many places in Europe. You can choose from the following list of best cities in Europe to visit in December and plan a lovely trip.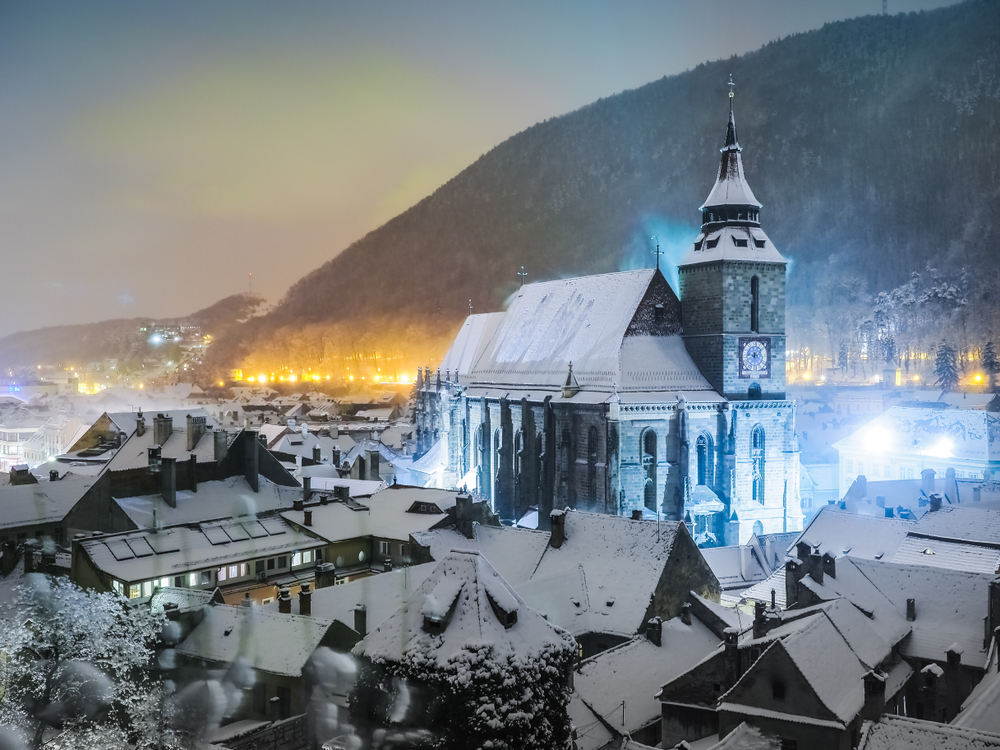 Zagreb in Croatia is one of the best places to visit in Europe in December. The city is ideal for backpackers travelling in winter as it hosts many events for tourists and locals to enjoy. You can go skiing in Sljeme and look at the breathtaking view of the snowy Mountain Medvednica. You can also visit Plitvice to see the frozen waterfalls. Advent laps at Christmastime are great for every tourist, and you will have a lot of fun. On a winter morning, you can take a tram or a cab and visit a flea market. 
Rijeka is another Croatian city that is a lovely destination for a winter trip. If you visit Rijeka in December, you can explore the Christmas Market held every year on the Korzo promenade. You can walk around the city and visit sites like Trsat Castle, Sanctuary of Our Lady of Trsat, Maritime and History Museum of the Croatian Littoral, and the City Tower.
Do you enjoy ice skating? If you do, then Riga is the best place to visit in winter. Riga is known for its numerous ice skating rinks that open for tourists in January, and the weather becomes freezing and icy during this time. You can also enjoy Christmas in Riga as a solo traveller or backpacker.
Sicily is a good choice for those who want to visit the warmest place in Europe in December. While you may experience some cold spells, it is mostly warm in Sicily during the winter months. You can even enjoy outdoor activities like sightseeing and picnics or take a dip in the sea.
If you want to visit a place in Portugal, the warmest country in Europe in December, you can choose Madeira. The weather is pleasantly warm, and you can actually swim in the sea! If you are a backpacker on a budget, then the archipelago of Madeira is the best place to be. In summer, it is the peak tourist season. So, in winter, all costs will be lower. You can find affordable accommodations and enjoy sightseeing tours. The region will also be less crowded, so you can easily walk around.
Cities in the UK are amazing Europe winter destinations, and Bath is no exception. The best thing to do is take a walk to explore the city. You can also attend parties at the Roman Baths, go to the Bath Christmas Market, or walk along the Bath Skyline trail. If you are visiting Bath in November, don't forget to attend Mozartfest. 
Hallstatt Austria in winter is straight out of a fairytale. The town is decorated with twinkling Christmas lights that add to its charm at night. You can stay at a small wooden cottage surrounded by snowy mountains or walk along the lake that is clear as glass. If you enjoy hiking, then you can sign up for a walking tour along the banks of Hallstatt Lake. If you are backpacking across Austria in winter and visiting Hallstatt, you must go on a sightseeing tour. You can visit the World Heritage Museum, Charnel House, Altaussee Salt Mine, and the Catholic Church.
Porto can very well be the warmest place in Europe in December as temperatures range between 10 to 18 degrees Celsius. However, the Mediterranean climate of Porto is great for tourists who don't want snow in winter. You can explore the churches in Porto, which feature intricate architectural designs, and visit the Serralves Contemporary Art Museum.
Seville is another warm city in winter. You can backpack across Spain and spend a few days in Seville. If you are visiting in December, you must explore different Christmas markets in the city. If you enjoy concerts, you can attend the Christmas concert by the Royal Orchestra of Seville. If you have friends and family in or around Seville, then you should stay till January and enjoy a traditional New Year's feast with them!
If you are looking for the best winter destinations in Europe, you will find that Prague is very high up on the list. There is a lot to see and enjoy in Prague during the winter months, from November to January. You can go ice skating or cross-country skiing, explore Prague Castle, enjoy a good tour, or even attend some holiday concerts. If you visit Prague in winter, there will not be a single dull moment! 
If you love exploring cities and backpacking across different regions, you should plan a European vacation in winter. Most cities are perfect for backpackers and offer great experiences. So, select the best places to visit in Europe in December and create a suitable itinerary for next winter! 
You may like to read: Road Trips in Europe – Tips