Planning a backpacking trip usually involves steps such as exploring information about the intended area, enquiring about the available options, and looking for a guide, etc. But the one essential part of the trick that many people forget or add at the bottom of their t-do list is backpacking. People don't pay much attention to backpacking or how to pack their essentials.
Backpacking is a skill so that you will find all the necessary items right where you need them. To achieve this feat, you must know how to pack a backpacking pack. Here are some awesome tips to help you with this task.
How to pack for backpacking?
There are several steps to pack the perfect backpacking. The primary steps include choosing the right sized backpack and assembling your gear. The size of the backpack depends on your needs, destination, and type of trip. Each of these factors varies with each other so one must be mindful of every item that they choose for the trip.
Once you have everything listed out and ready, assemble them and do a trial packing so that you don't have to do any kind of last-minute purchase or arrangement. Next comes the most important part, packing!
While packing, you must give more importance to the essential items, items that are required for the journey such as hiking, camping, etc. Each type of trip requires different essential items other than personal ones.
How to pack a hiking backpack?
Step #1 Weight assessment
Arrange your items according to their average weight such as lightweight, medium weight, and heavy items. This is important for hiking as you will be carrying your backpack and it should be comfortable on your shoulders.
Step #2 Weight distribution
The next step is to pack them in such a way that the weight distribution is even and will not give any extra pressure on your shoulders. Pack the medium weight items at the bottom of the backpack. The heavy items should be placed on the mid-back of the pack so that your back will provide its support. The light items should go in the mid-front area and at the top.
Make sure that the most needed items are placed in easily accessible areas.
Step #3 Utilising the pockets
Pack the essentials such as a torch, snacks, compass, first aid, rain cover etc, in the outer pockets of the backpack. The sleeping bag, extra clothes, water bottles, eating utensils, etc are some of the essential items that go into the outer pockets, either in the middle or at the bottom part.
Step #4 Additional storage
Once you have your back[ack ready, make sure that you have additional storage space in your person in the form of a belt pocket, kangaroo-pouch, etc.
Additional tips
An adventurous trip would need items such as odour proof bags, bear-proof packs, waterproof bags, trash bags, enough water etc.
Use compression bags where applicable so that you don't overstuff your backpacks.
Make sure that you keep everything or as much as inside your backpack. Do not let anything dangle from the bag as it can be inconvenient and might even come in your way especially on tricky trails.
Most importantly, while packing, make sure to keep your essentials in such a way that makes perfect sense to you and at your convenience. At the same time, ensure that the weight is evenly distributed.
How to pack a suitcase?
A suitcase gives a very limited space so you must narrow down the items that you want to carry. Pack only the most essential items according to your needs.
Though you may use any technique that deems fit for you, the rolling method can be most effective for clothes. Choose wrinkle-free clothes as much as possible.
Arrange clothes in individual packs as per the day's requirement will help you during the trip. Make full use of the packing cubes. Carry additional clothes bags and laundry bags to keep the soiled ones.
Include one pair each of sandals, sneakers, and evening footwear. You can even use your shoes to pack smaller items and socks.
Toiletries need separate packing with each item in smaller bottles. Make sure that these bottles are not filled to their maximum. Besides, wrapping their lids using tapes avoids spillage.
If you are travelling by flights or buses, you must keep the luggage policy of the respective carrier or operator and keep the weight of the luggage within the allowed limits. Otherwise, you may have to pay additional charges or may not even get to carry your essential items as needed. 
Suitcases for travelling bus or flights
Carrying luggage can be tricky while travelling by bus. For example, the unwritten rule on a London bus is that the passengers should avoid a larger suitcase as much as possible and carry only those that can fit inside the bus without inconveniencing others. They are mainly intended for sightseeing and normal commutation.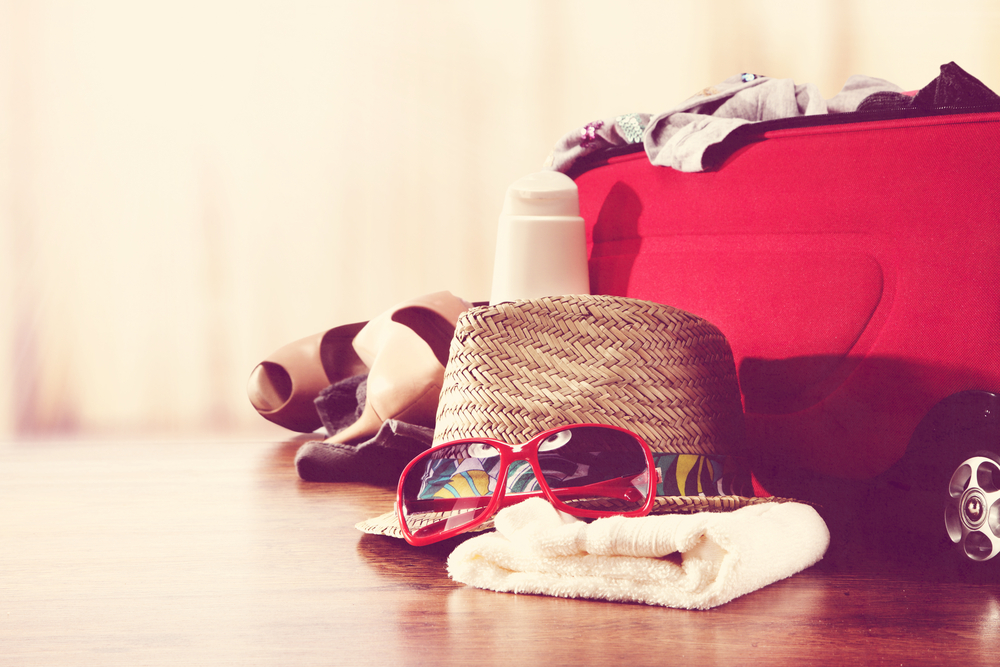 While the Bristol bus or an Edinburgh bus for intercity or interstate travel, allows one large or two medium-sized suitcases, they must not exceed 20 kg in total.
For international travels, make sure to carry as little as possible and choose buses that have luggage compartments. For example, the Barcelona bus operated for the airport shuttle will have ample space for the luggage. Even then, you should be mindful about travelling lighter so that you don't have to haul heavier suitcases on your own.
How to use packing cubes?
Regardless of the type of backpacking trip that you are going for, packing cubes can be a huge advantage. These are small transparent boxes where you can keep your clothes. Each cube can carry a pair of clothes for each occasion or day. These will help you see what's inside and make it easier for carrying them around. These are space savers and do not end up bulky either.
But, how to use these packing cubes?
Choose the packing cubes that are suitable for your backpack size. They are available in various sizes.
Group your essential items as per the day or needs and each group goes into individual packing cubes.
Choose a weather-proof packing cube for hiking, camping, beach, etc. Roll your clothes and arrange them neatly in rows inside the cubes.
Allot a separate cube for your most soiled clothes and pack them separately from other items, for your return journey.
Allot individual cubes for your electrical, electronics, delicates, and toiletries.
If you can, colour code the packing cubes so that it is easier for you to identify each of them into separate categories.
How to pack a carry-on?
Most airlines and bus operators allow carry-on bags that are compact. People usually use these bags to carry their most essential items and a pair or two of extra clothes. Even then, these carry-ons can become heavier. The trick here is to know what to pack and how to pack them. These tips will help you immensely.
Roll your clothes so that they do not occupy much space.
Pack only 2-3 pairs of extra clothes.
If you are carrying for a few days without additional luggage, pack the items according to the day with colour coded packing cubes for individual days.
Make use of compression or vacuum pack bags to utilise maximum space.
Utilise the dead spaces such as the interior of shoes, smaller side spaces inside the bag, etc., for socks, jewellery, batteries, etc.
A laundry bag and some dryer sheets to store the dirty clothes, without making them stinky.
Bottom Line
The best way to pack for any type of trip is to understand your needs and know what the destination demands. You must always pack only as much as is required and what is appropriate for the occasion. Packing multiusage items will be smarter. Be always aware of the logistics and choose your gear and backpack accordingly.  
You may like to read: Winter Destinations in Europe