From ancient cities to quaint little villages, Europe offers a lot to backpackers. More than 500 million tourists from all parts of the globe arrive in Europe in a year. Solo backpackers also love travelling to Europe, as it has a lot to offer. Before you go on a solo backpacking trip, you should know some of the best locations in Europe. Solo backpackers should also know how to make their Europe trip economical. Read on to know the best places in Europe for solo backpacking and some travel tips.
Best European countries for solo backpackers
Europe consists of 44 nations and each one of them has something unique to offer. Some of the best countries to visit in Europe for people intending to have solo backpacking are as follows:
• Croatia
Do you love beaches that offer crystal-clear water? Well, Croatia has many mesmerising beaches for solo backpackers. One can find many quaint beaches in Croatia to unwind and relax. Croatia offers many historical cities and nature hotspots to tourists. Not to forget, Croatia possesses a rich cultural heritage and is popular for its mouth-watering food. Many people from around the world visit Croatia to witness the turquoise blue water of the Adriatic Sea. In 2019, before the COVID pandemic, Croatia witnessed more than 90,000,000 tourists from all parts of the globe. 
• Bulgaria
While backpacking alone in Europe, Bulgaria is one of the best locations to visit. You can go to Plovdiv which is one of the oldest inhabited places on earth. Bulgaria has many mesmerising lakes, monasteries, and caves. Many quaint seaside towns in Bulgaria are perfect for solo backpackers. There are many UNESCO heritage sites in Bulgaria that attract solo backpackers around the world. Some of the UNESCO heritage sites in Bulgaria are Boyana Church, Thracian Tomb of Kazanlak, Rila Monastery, Srebarna Nature Reserve, and Pirin National Park. 
• Spain
If you love an adrenaline kick, Spain is the perfect European country to visit. Spain offers many activities and landscapes for adventure buffs. If you are a fan of solo hiking, Spain is one of the best places in the world. The zipline between Spain and Portugal is widely popular among adventure buffs. Not to forget, Spain has a rich culture, heritage, and history dating back to the earliest centuries. 
• Italy
In Italy, you can go on some of the best walks and solo hiking trips. Some of the best hiking trails in Italy are Cinque Terre, Tre Cime di Lavaredo, Dolomites, Selvaggio Blu, and Valtellina. Besides hiking trails, there are many architectural wonders to see in Italy. The Leaning Tower of Pisa alone attracts many tourists every day from all parts of the world. You will also enjoy the rich culture of Italy and get a chance to see some local festivals. From the battle of oranges to the Venetian Carnival, the people of Italy always have something to celebrate. 
• Turkey
Amazing food, mesmerising beaches, and historical sites, Turkey has it all for tourists backpacking alone. Turkey has an opulent history and culture that attracts backpackers from all parts of the globe. Turkey also offers many adventure activities to solo backpackers. You can go on solo hiking trips in Turkey and view beautiful landscapes. Most of the tourists coming to Turkey share positive reviews about the local cuisines. 
• Norway
Norway is one of the most-visited countries in North-western Europe. For tourists backpacking alone, Norway is among the safest countries on the planet. It is also among the happiest countries on the planet. Norway is popular for its breath-taking fjords, wild frosty lands, snow trails, and sumptuous food. If you are in search of quaint solo backpacking trips, Norway is the right choice. 
• Finland
People who want to go for solo backpacking and want to see old architecture and relics can visit Finland. Various cities in Finland are steeped in history, and you can witness it by taking a walk across the cities. There are more than 35 national parks in Finland that are a paradise for cyclists, photographers, campers, and backpackers. You can go on solo hiking trips to any of the national parks in Finland. 
• Sweden
Sweden is popular for its royal palaces and fascinating museums. You can know more about the royal history of Europe by visiting Sweden. One can also find many national parks and amusement parks in Sweden to unwind. Many people from all parts of the world visit Sweden for adventurous winter sports activities. 
Tips for solo backpackers in Europe
Some tips for tourists backpacking alone in Europe are as follows: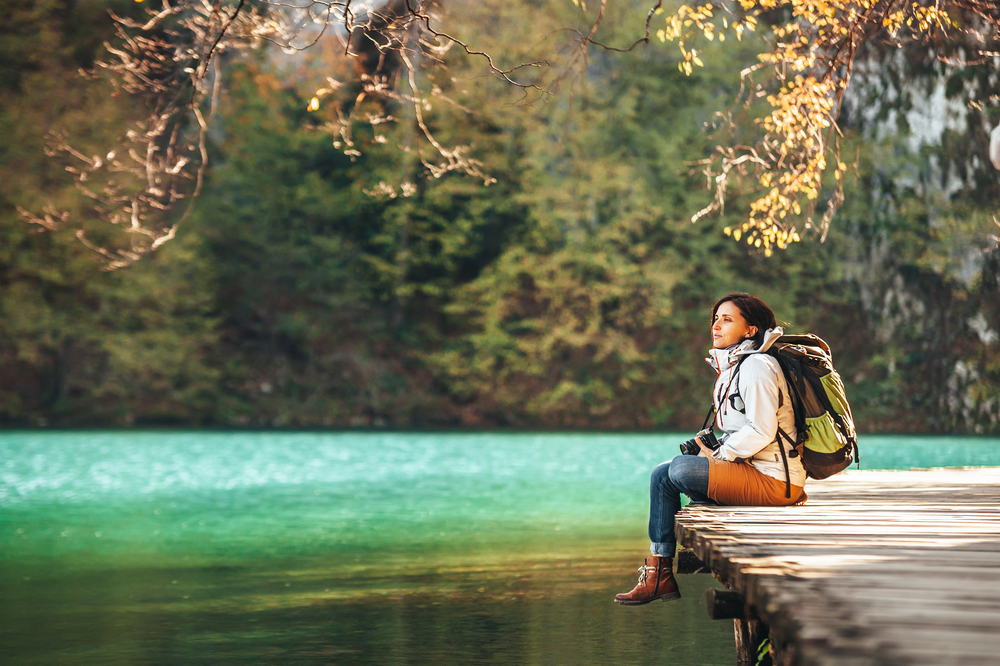 • Get around Europe by bus
Buses are the best way of travelling from one place to another in Europe for backpackers. Solo backpack in Europe can get costly if you take flights from one country to other. Buses in Europe also travel across countries due to the presence of many international bus companies. Bus companies like CityLines and Alsa offer bus services in more than one country. 
Also, buses in Europe are easily available throughout the day at affordable rates. You can go visit some quaint towns in Europe via bus transport services. There are several bus stops/stations in Europe that facilitate the bus operators in connecting different cities. The excellent road condition of European countries makes bus travel smoother.
• Book tickets online
Before you go on a solo backpack in Europe, book bus tickets online. By booking European bus tickets online, you can avoid the queues at bus stations. You can plan your journey to the boarding point according to your bus timings. Make sure you do not book European bus tickets from unreliable sources on the internet. redBus is a one-stop solution to your bus ticketing needs in Europe. You can buy affordable European bus tickets on redBus at all times.
• Choose your travelling season
Most tourists flock to Europe in the summer season. Most solo travellers prefer to visit Europe during the offseason as there will be less crowd. If you are heading to Europe in the summer season, head towards Eastern Europe. There are many fantastic tourist spots in the east, like Slovenia and the Balkan coastline. These places will be worth your money during the European summers.
If you visit Europe during the autumn season, head towards Southern Europe. Spain and Italy are the best destinations in Europe during the autumn season. During the new year time, Britain and France are perfect for solo backpacking. During the winter season, days are longer and you can head towards Northern Europe for a memorable experience.
• Plan your accommodation
Accommodation is a key factor that will decide the budget of your solo backpacking in Europe. You can book your European hotel rooms in advance via reliable sources to avoid last-minute hassles. Homestays in Europe are an excellent option for tourists backpacking alone. Homestays in Europe offer a better value for money than hotels. You can also enjoy camping at affordable rates at some of the best camping sites in Europe.
• Visit Europe during a festival
Europe is best known for its opulent history, culture, and tradition. Many festivals in Europe are proof of their diverse culture. If you want to make solo backpacking in Europe memorable, plan your trip around a festival. You can join the Carnival of Ivrea (Italy) to battle with oranges during February/March. You can visit Ireland during the St. Patrick's Day celebrations. Every country in Europe has some or another popular festival for solo backpackers.
• Taste the local food
Europe offers a perfect gastronomic experience to solo backpackers. Be it tapas dishes of Spain or open sandwiches of Denmark, Europe has a lot to offer. Solo backpacking is perfect in Europe when you walk around the streets. You can eat at local street food markets in Europe to taste the local flavour. Plan your solo backpacking trip to Europe and taste sumptuous cuisines! 
You may like to read: Women Solo Travel in Europe – Tips