Spain has one of the most vivid landscapes that are a treat for the sore eyes with its lush scenery and beautiful architecture. Every city and town in the country has a lot of beautiful views and heritage sights that you'll want to explore. Whether you're backpacking in Europe or enjoying a special vacation, a road trip in Spain is something you shouldn't miss.
Spain is easy to navigate—all cities and towns are easily connected with highways and punctual public transportation. However, rather than hiring a car or taking the trains, you might want to consider travelling around Spain by bus. Spain road trips are efficient and economical when you opt for a bus. The ticket prices vary from city to city as bus networks are operated locally but often are cheaper than traversing Spain via trains or cars.
Here are some of the most beautiful road trips in Spain you can make using well-connected bus routes:
Zaragoza To Madrid Bus
The trip from Zaragoza to Madrid by bus takes about 3 hours 30 minutes to over 4 hours based on the bus route and operator. The distance is about 274 KM between the two cities. Zaragoza is the capital of Aragon, while Madrid is the capital of Spain. There are many buses on this route operated by the ALSA Company known for its comfortable amenities in Spain. You'll journey through picturesque Castilian villages, cathedrals, castles, wineries, and more on the route there.
Average bus ticket price: EUR 5-20
Best places to visit in Madrid:
Prado Museum
El Retiro Park
Reina Sofia
Matadero Madrid
Templo de Debod
Zaragoza To Barcelona Bus
Barcelona in Spain, the cosmopolitan capital of Catalonia, is known for beautiful architectural structures like the Sagrada Familia Church. The route from Zaragoza to Barcelona is equally enthralling with seeing sights of Osborne bulls and splendid landscapes passing by. The journey takes about 4 hours depending on the bus route. The distance between the two cities is around 256 KM.
Average bus ticket price: EUR 5.45 onwards
Best places to visit in Barcelona:
La Sagrada Familia
Park Guell
Casa Mila
La Rambla
Cathedral of Barcelona
Madrid to Barcelona Bus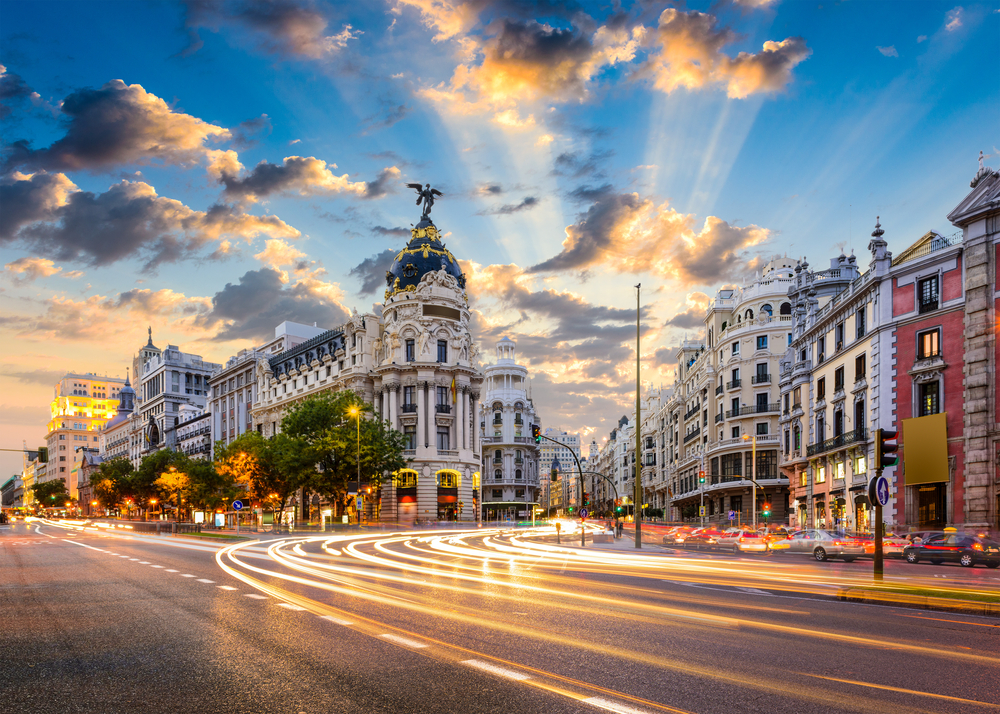 This is a long route from Madrid to Barcelona that takes over 7 hours to make. It is a popular route considering many travellers move to and fro from these cities. You'll find many operators and bus schedules for this route which travels through some of the most beautiful views through Spain. The distance between the two cities is over 500 KM and crosses many quaint towns, beautiful cities to make the journey.
Average bus ticket price: Starts EUR 23.79 and can go up to EUR 100 if you opt for luxury buses.
Best places to visit in Barcelona:
Casa Batlló
Picasso Museum
Mercado de La Boqueria
Barcelona to Valencia Bus
As far as Spain road trips go, Barcelona to Valencia is one route you shouldn't miss. Most of the Barcelona to Valencia bus route passes through the coast giving you a glimpse of the sea. As both cities are quite prominent, you'll find many boarding and drop-off points and also many buses throughout the day to travel as per your convenience. The distance between the two is about 303 KM which by bus can be covered in 4 hours.
Average bus ticket price: EUR 33.74
Best places to visit in Valencia:
Ciudad de las Artes y las Ciencias
L'Oceanogràfic
La Lonja de la Seda
Museu de les Ciències Príncipe Felipe
Segovia to Madrid Bus
If you're planning a short road trip, then Segovia to Madrid is your best bet. The route takes about 1-2 hours by bus as it is just 92 KM between the cities. Segovia, a UNESCO World Heritage City is something you shouldn't miss and the route between the two cities is filled with castles, cathedrals and splendid landscapes.
Average bus ticket price: EUR 4-5
Best places to visit in Madrid:
Matadero Madrid
Museum of Illusions
El Capricho market
Círculo de Bellas Artes
Valladolid to Madrid bus
Valladolid may be an underrated tourist destination, but you can't deny the gorgeous views of the mountains, small towns and architectural beauty when you travel here. Valladolid to Madrid is about 162 KM apart and usually can be covered in 2 hours 15 minutes through the fastest bus.
Average bus ticket price: EUR 16
Best places to visit in Madrid:
Museum of Illusions
Reina Sofia
Templo de Debod
Madrid to Seville bus
Madrid to Seville is a quite popular tourist route when it comes to Spain road trips. This is a 6-hour journey filled with passing through popular cities, architectural sites, UNESCO heritage landmarks and more. Both cities have a vibrant vibe with many cathedrals, castles that you'll love to see. The cities are 391 km apart and are easily accessible by bus.
Average bus ticket price: EUR 34
Best places to visit in Seville:
Royal Alcázar of Seville
Plaza de España
Catedral de Sevilla
La Giralda
Spain is a beautiful country loaded with lush greenery, architectural beauty, famous landmarks and more. If you're planning a trip around Spain, you will find out that buses are the cheapest and most convenient way to travel. You can easily book a bus online using redBus which lists most operators in the route and helps you compare the prices before you book the best bus. 
You may like to read: Road Trip in Europe – Travel Tips