Europe is the dream destination for many people around the world. You get to witness history along with the perfect gastronomic experience in Europe. You will also be amazed by the natural and man-made tourist spots of Europe. Comprised of 44 nations, Europe has many UNESCO heritage sites and wonders of the world. Europe travel tips should be known if you are planning a trip.
Before visiting Europe, one should plan their trip to avoid any last-minute mishaps. Take some time and decide on the European locations you want to visit, transportation, and accommodation. You don't always need an agent for making a travel guide to Europe on a budget. You can search yourself on the internet for European destinations without the need for a travel agent. Read on to know some tips for backpacking Europe.
Choose your European destinations
There are many nations in Europe, and you need to decide your travel destinations beforehand. When you decide on your European destinations, you can pre-book transportation facilities accordingly. You can make bus/flight reservations to Europe if you know about your European destinations. You can also make hotel bookings beforehand in your favourite European destinations. Look at photos of European destinations on the internet to choose your favourites. Some of the popular European destinations for tourists are given below:
• Rome: The capital of Italy is one of those metropolises that also boast a rich history. You can get to know more about the Roman Empire by visiting historical sites in Rome. Not to forget, the Colosseum in Rome is a world wonder. Many people visit Rome to come to Vatican City, which is a country in the heart of the capital city of Italy.
• London: Many architectural marvels and heritage sites are there in London for tourists. In the past, London and Westminster were merged to form what is today known as Greater London. London is also known for its skyscrapers, high living standards, and nightlife. Some of the best tourist attractions in London are Buckingham Palace, Hyde Park, Stonehenge, Museum of Brands, Chislehurst Caves, and The Tate.
• Paris: The French capital is an epicentre for fashion and food in the world. Not to forget, the popular Eiffel Tower is located in Paris only. Paris is a must in all types of Europe vacation ideas if you want a memorable experience. There is a saying that at least spend a night in the 'City of Lights' to see the real beauty.
• Santorini: Located 200 KM far from Greece, Santorini was naturally formed after a volcanic eruption. This volcano beach is known for its mesmerising beaches around the globe. From rocky beaches to pebble beaches, you can find them all in Santorini. Some of the best places to visit in Santorini are Hiking Trail Fira, Amoudi Bay, Museum of Prehistoric Thira, Kamari Beach, Akrotiri Archaeological Site, and Ancient Thera.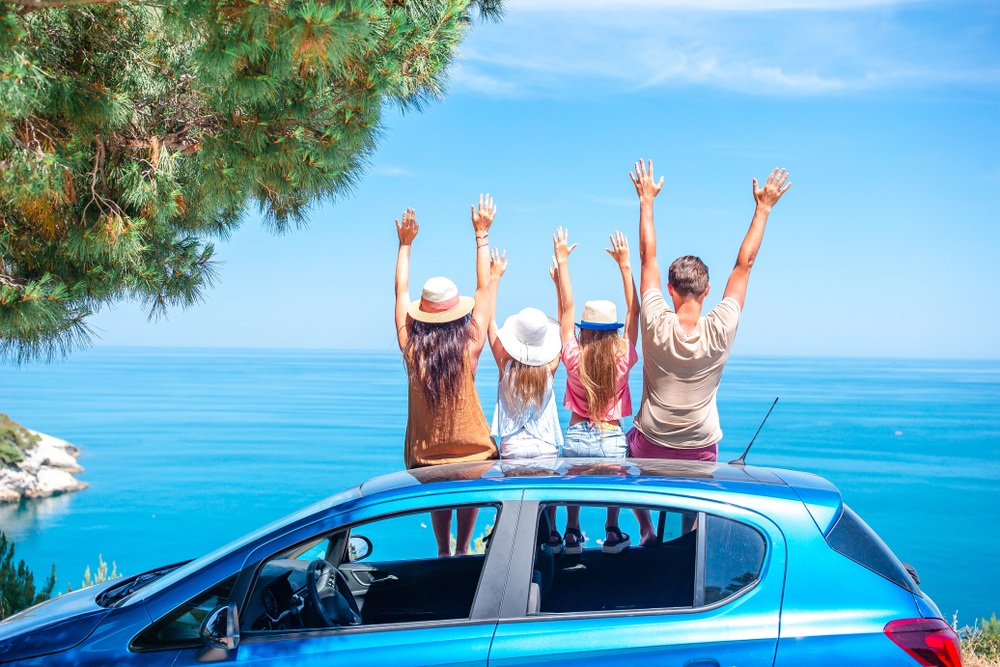 Besides the aforementioned destinations, there are many other fun-filled places to visit in Europe. Before going on a journey to Europe, explore Europe trip ideas to decide the best. Some other European destinations for tourists are Croatia, Amsterdam, Barcelona, Budapest, Prague, Edinburgh, Madrid, Istanbul, Dublin, and Milan.
Best time for a Europe trip
Along with exploring Europe trip ideas, you also need to decide the right time for your trip. Approximately, 480 million international tourists arrive in Europe in 365 days. Most international visitors come to Europe during the summer season. June, July, and August are the peak months for tourism in Europe. Summers in Europe are sunny, and the days are longer than usual. Since there are no weather disturbances like storms or snow, people travel to Europe during the summer season.
Another reason for people travelling to Europe in summer is light packing. Most of the tips for backpacking Europe are related to packing warm clothes or rainy clothes. You can travel with a lightweight bag to Europe in summer. However, many solo travellers prefer to travel to Europe during the Autumn season. During the Autumn season in Europe (September to November), most of the summer crowd have returned to their homes. Solo travellers love quaint tourist spots in Europe that give them a sense of tranquillity.
Arrange your transportation to Europe
Once you have decided your European destinations and travel date, you need to arrange your transportation to Europe. If you are travelling to Europe from some other continent, you will have to book flight tickets. Flights are the only means of transportation for travelling from one continent to another. Public water & road transport services are not available between continents. One should book flight tickets to European destinations before their journey. By pre-booking flight tickets to Europe, you can get your favourite seat.
Pre-booking flight tickets can also save you money while touring Europe. As the departure time of European flights comes near, their ticket rates rise drastically. You can get cheap European flight tickets by booking 3-4 weeks before your trip. People already residing in Europe do not include flight tickets in their Europe trip ideas. It is because Europe has a well-managed bus transportation system for tourists and residents. Bus services are available between many European countries that are close to each other. Cross-border buses in Europe are highly preferred by Europeans for tourism.
Commuting within Europe
Once you have reached Europe, you can rely on buses for getting around. Each European country has a well-dedicated bus transport system for tourists and daily commuters. European countries provide bus services to neighbouring countries to facilitate the passengers. Once you have browsed Europe trip ideas, you can pre-book bus tickets to get around in Europe. Buses can get you anywhere in Europe at affordable prices. For travelling from one European country to another, buses are much cheaper than flights. Budget travellers to Europe should pre-book bus tickets to keep their expenses in check.
Travel buffs that give tips for backpacking Europe suggest that one should book bus tickets online. With a reliable e-ticketing platform like redBus, you can pre-book Europe bus tickets. If you have booked Europe bus tickets online, you don't have to lurk in European streets to find public transport. Any last-minute confusion will not ruin your Europe trip when you have pre-booked bus tickets. Once you have explored Europe trip ideas, you should book a local bus to reach tourist attractions in your destination city. Online Europe bus booking will save you from visiting a travel agent. A trusted platform like redBus will allow you to pre-book Europe bus tickets without any commission charges.
Check your documents
Before travelling to any European country, know about the VISA requirements. Due to the recent COVID pandemic, many European countries asked for specific documents from tourists. For example, many European countries ask for a negative RT – PCR report for granting entry to international tourists. Among all the tips for backpacking Europe, arranging your documents is of utmost importance. Without proper documents, European countries will not grant you entry. You can also land into legal hassles if unable to show proper documents at checkpoints in Europe.
You should look for Europe tips before catching a flight/bus. The aforementioned Europe travel tips can help you in completing your trip on a low budget. Search for Europe travel tips and get your backpack ready!  
You may like to read: Solo Trip in Europe