Tourists and locals alike choose to travel by bus in Europe. Europe is a continent known for its scenic beauty and countryside. Everything from industries to tourism, and from art to literature have time and again been inspired by the aesthetics of the various towns and counties. People opt for traveling by a bus in Europe across cities and countries due to the availability as well as the convenience that bus journeys offers.
They are not only cheap and hassle-free but also connect the remotest regions with the urban hotspots. There are many towns in Europe where the only mode of transportation to reach them is by bus. There are various international and luxury bus travel Europe opportunities that come in handy for tourists and locals alike. 
Popular Bus Routes in Europe
There are some very popular routes for a bus in Europe and while they usually connect hyped cities, you will be surprised to know how random small towns are people's favourites as well.
London to Paris: London and Paris are probably the most popular cities across the continent. One is famous for its colonial history while Paris is the city of lights and everything nice. There are various bus service providers that connect these two cities and offer around the clock fast buses. The distance between London and Paris is 295 miles and the buses take around 6 hours to complete the journey.
Madrid to Valencia: Madrid is 223 miles away from Valencia and the bus journey between the two usually is approximately 4 hours long. Although there are direct trains between these cities, people choose to travel by Madrid to Valencia bus due to the many luxuries it offers.
Barcelona to Madrid: Situated almost 400 miles from each other, both these cities are universally famous for their football clubs. Fans, locals, and tourists often book tickets for their Europe bus to travel to and from these destinations. A return bus from Madrid to Barcelona can also be easily booked.
Paris to Amsterdam: France and Netherlands have been important countries of the European continent forever. While there is merely 320 miles separating the famous cities of Paris and Amsterdam, people who choose to travel through Europe by bus don't miss this opportunity to enjoy the journey and the life in these two cities.
Paris to Brussels
Budapest to Vienna
Stockholm to Oslo
Madrid to Malaga
Listed above are some of the most famous bus routes across countries and counties in Europe. The return journeys from these destinations are also equally famous and crowded all year round. If you want to tick off "ultimate bus travel Europe" from your checklist, you can't afford to miss these rides.
Benefits of Travelling in Europe by Bus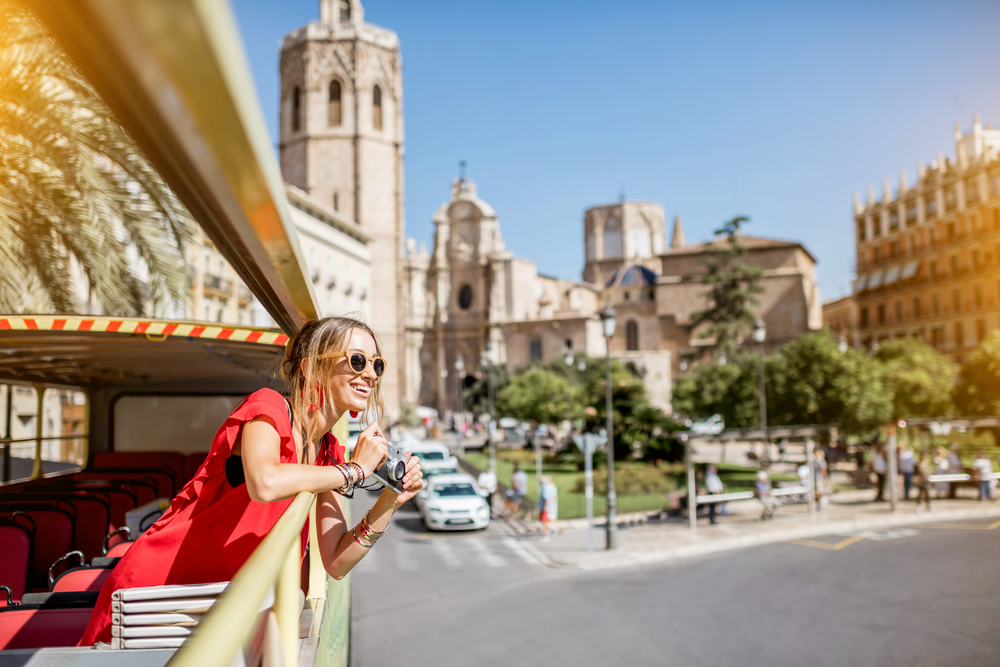 There are numerous reasons why buses have been gaining popularity across Europe as the most convenient mode of transportation. Although the bus ticket Europe can offer is abundant, one should know why buses are best for them.
Scenery: Bus journeys are exceptionally enjoyable due to the scenic factors. Buses usually run through national highways and countrysides, which offer spectacular views for the passengers. Many people opt to roam around Europe by bus as they enjoy the journey more than that through other modes of communication.
Greener: Buses or any form of public transportation facilitate environment-friendly practices. But among the other forms of public transportations, buses are the greenest. Thus, a rational and concerned citizen of the world should opt for a bus tour Europe whenever possible to reduce carbon footprints and do their part in protecting our environment. 
Social Benefits: Buses also help people interact with each other during the journey. There can be various crises or events during a journey, all of which definitely bring the people on the bus closer. They share meals, chargers, stories, and emotions and the bus becomes a very strong socializing platform. 
Cheap Travelling: Buses are undoubtedly the cheapest way of commuting. Some of the main reasons the Europe bus companies have grown in popularity are the affordability, accessibility, and availability of the buses. 
Stops and Breaks: Journeys can often become monotonous and tiring. The buses not just offer comfortable seats and luxurious journeys but are also great as there are frequent stops for resting. Passengers can get down, take a walk, eat, buy essentials, shop for local specialities, and even decide to change plans all during their journey without any hassle whatsoever. 
Safe Luggage: How often is it that you hear the horror of luggage misplacement of your known ones. With bus journeys, that chance is minimized to zero as the luggage is literally in the belly of the beast all the time and you can get access to them under any emergency. You can also opt to discontinue your bus journey at any stop and the staff will immediately arrange for your luggage. This convenience is quite impossible in any other mode of transportation. 
M-tickets: M-tickets are the future. All the bus booking agencies like redBus along with the bus companies Europe has been normalizing and promoting the use of M-tickets as they not only reduce unnecessary paper consumption but also make it easier to book and produce tickets for the bus journeys. 
Top Bus Operators in Europe
Before planning your trip and booking your tickets, you must know about the various bus companies Europe has running all around.
While there are various bus agencies with their own USPs and price ranges, there are some that are people's favourites and specialize on their respective routes.