You must be very excited about your wedding and to be able to start a new and very important stage in your life together with your partner. Especially because after the arduous planning of the ceremony, comes one of the best holidays you will ever have in your life, the honeymoon. There are many destinations you can go to for your honeymoon, but you will definitely find the most romantic places in Europe. If you are interested in finding out more about the best Europe honeymoon places, read on as you will find many Europe honeymoon ideas that may interest you. 
Most of the time, newlyweds want an authentic, adventurous, exotic honeymoon with a total change of scenery and romance. A honeymoon should be unforgettable because it is the beginning of the great adventure of a life with someone else. Normally, it should be noted that a honeymoon is a once-in-a-lifetime event, and for this reason alone, it must be unique, original and romantic. Imagine looking to the Alps in Switzerland, having a romantic dinner in Italy, Enjoying the paradisiac beaches in Greece or giving a kiss on the top of the Eiffel tower in France. You can find this and more in the Europe honeymoon packages.
Top European Cities for a Honeymoon
Here you can read a list of cities in different countries that are ideal for your honeymoon and available in the Europe honeymoon packages.
France has long been considered the country of love, especially Paris for all the many romantic stories and the uniqueness of its streets. But Paris is not the only city with this romantic charm, here are a few other cities that might interest you for your honeymoon.
Paris
Annecy
Aix-En-Provence
Champagne
Turin
Book a Lyon to Turin bus ticket online!
Italy does not lag behind France when it comes to the romantic charm of its cities. There is a reason why Romeo and Juliet take place in Verona, one of those classic Italian cities where love is in the air. Italy offers spectacular scenery and picturesque villages by the sea that give you the opportunity to have some of the best romantic dates you can think of. These are some of the honeymoon destinations in Europe that belong to Italy.
Venice
Rome
Florence
Como
Verona
Milan
Book a Lyon to Milan bus ticket online!
Greece has something that other European countries wish they had: great weather, beautiful beaches and picturesque waterfront scenery. Enjoy the blue Mediterranean sea by visiting one of the many islands in Greece. Take advantage of the landscapes of the Greek cities together with the one you love, you won't forget the magical moments you will spend in any of these Greek cities available in many Europe honeymoon packages.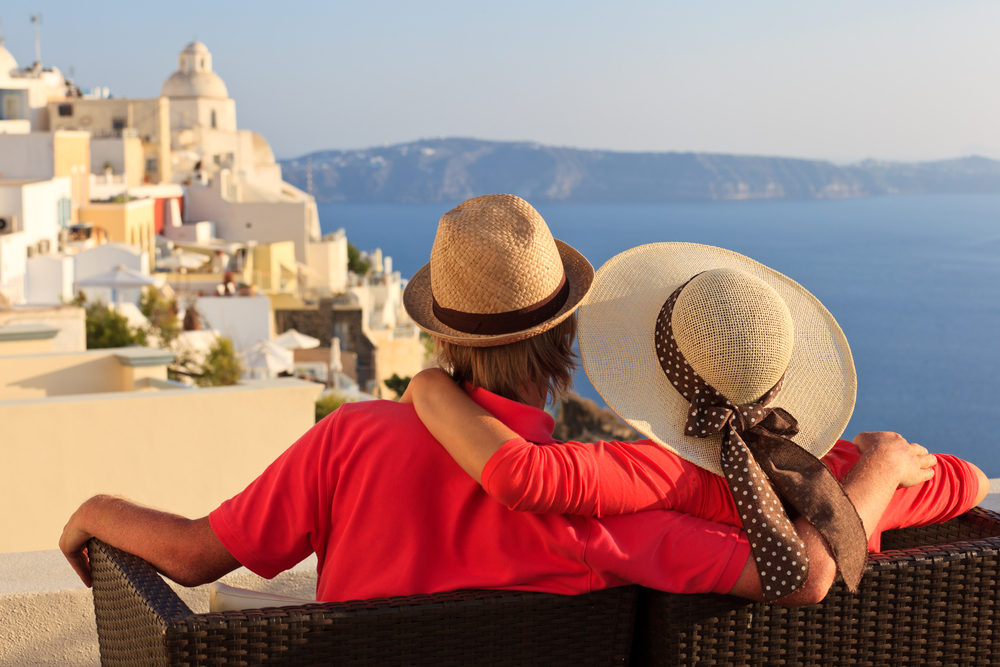 Santorini
Milos
Mykonos
Crete
Athens
Book Sofia to Athens bus tickets online!
Spain is a country characterised by its joy, food, climate and music. Imagine being able to attend a flamenco night with your couple, letting yourself be carried away by the warmth of the night and the sangria while dancing to the rhythm of the palms and the Spanish guitars. It is undoubtedly a unique and original place to have your honeymoon. Most European honeymoon packages include the following cities.
Seville
Barcelona
Granada
Salamanca
Madrid
Book a Zaragoza to Madrid bus ticket online!
Top Activities for Couples in Europe
In this section, you will find the best activities you can do with your couple when visiting the best honeymoon destinations in Europe available in the Europe honeymoon packages.
Enjoy a night date in front of the Eiffel Tower
Whether it's having a fancy dinner at the restaurant located at the top of the Eiffel tower or a picnic in front of it, enjoy a romantic evening with your couple under the Parisian skies. As you are in Paris, champagne, cheese and macaroons for dessert with some music in the background are a must. Make the most of your evening in the city of love.
Get a ride in a Gondola with music in Venice
If walking through the streets of Venice is already romantic, imagine being able to take a gondola ride while having a glass of wine with your partner and live music playing for you. You can come and live the dream of many couples in this romantic city.
Ride a hot air balloon in Cappadocia
Cappadocia has some of the most picturesque scenery in the world. Enjoy the view from a hot air balloon high above the city while watching the sunrise and having breakfast with your loved one and a glass of champagne. This kind of experience doesn't come around twice.
Watch a beautiful sunset in Santorini
You have probably seen pictures of this amazing place in Greece, the classic Greek white houses with the sea and the sunset in the background. When you come to this island, you can not only appreciate the scenery but also enjoy the culinary specialities. There are also many fun activities like taking a boat trip and swimming near the volcano.
Enjoy days at the beach in Mallorca
Santorini is not the only island you can go to for your honeymoon. Mallorca, although lesser-known, has turquoise beaches and sunsets that paint the landscape crimson red. Come here and you'll automatically fall in love with the place.
Advantages of Booking With redBus
redBus allows you to easily and quickly manage all your trips in Europe. Here are some of the advantages of booking with redBus when looking into the Europe honeymoon packages.
Forget about having to contact multiple travel agents or tourist offices in order to organise your honeymoon. redBus provides you with all the information you need so that you can simply organise your trip yourself, saving you time and money.
Compare different prices and schedules so that you always have the option to choose what suits you best. This way you can manage your time as you see fit to enjoy various honeymoon destinations in Europe.
Travel safely with redBus. When you book your tickets your payment and booking are insured so you don't have to worry about last-minute changes or inconveniences. On the other hand, if you wish to change your booking, you can also do so by logging into the redBus website.
The time you will spend on your honeymoon with your loved one will become an unforgettable experience that you will remember fondly for the rest of your life. An experience that will remind you of your love and that you will be able to share with those around you.
You may like to read: Best beaches in Greece