The magical beaches in Greece are the perfect vacation spots in any season. The country has some of the most beautiful beaches with sparkling sand and pristine blue waters. You can enjoy a leisurely trip with your family or go on a romantic holiday with your partner. The beaches in Greece will mesmerise every kind of traveller.
Most of the beaches are easily accessible from nearby cities. They also have lovely resorts, restaurants, and taverns. So you can stay on the best beaches in Greece and savour some of the delicious local dishes.
Top 5 Beaches in Greece
If you are planning to stay on one of the beaches in Greece, you will notice that there are many options! Greece has some of the most splendid beaches on the continent, and you can pick any to enjoy an amazing vacation. Below are some of the best beaches in Greece, you can choose one that suits your holiday.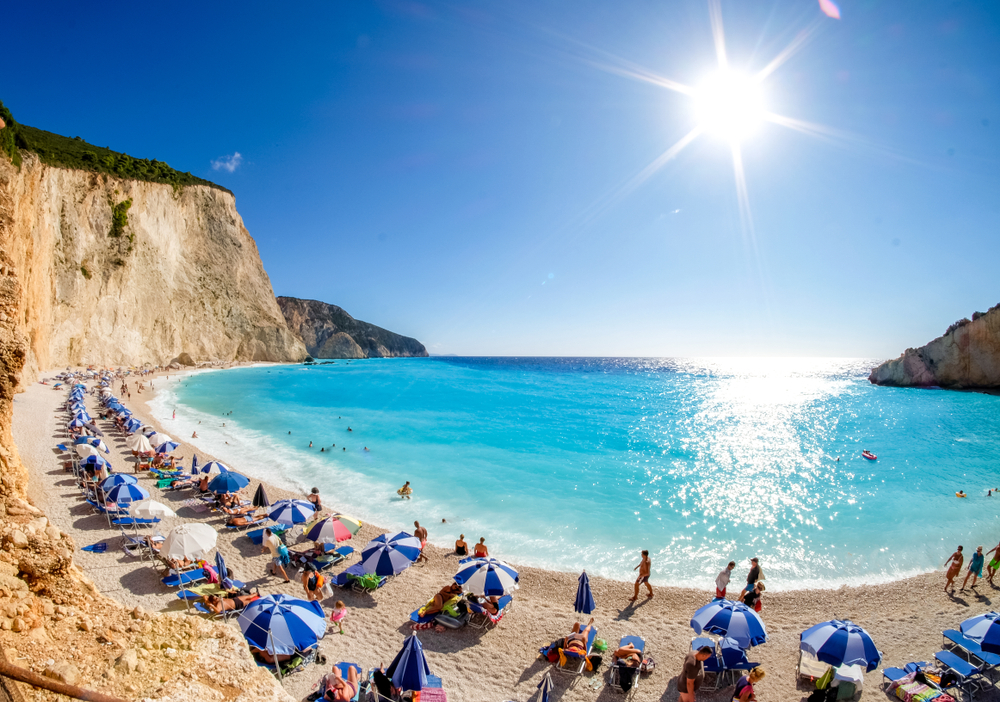 Elafonissi
If you wish to visit the best beaches in Crete, you should start with Elafonissi. The beach with shimmering gold sand stretches for miles with the beautiful turquoise sea water lapping at its edge. You will notice several dunes on this beach, and it is truly a Greek paradise.
To reach Elafonissi, you can take a cab from Chania. You can also travel by a public bus or rent a comfortable car. Car rentals are easily available in Chania and take only an hour to reach Elafonissi.
Elafonissi is a perfect honeymoon destination, and you can plan a short, magical trip to this part of Crete with your partner. The beach at Elafonissi has several sunbeds, and you can lounge under beach umbrellas. You will find a few canteens at Elafonissi that serve local cuisine and drinks. So you can easily plan a day trip from Chania or any nearby location in western Crete.
Koukounaries
Are you looking for unusual beaches in Greece? Then it would be best if you visited Koukounaries. The beach at Koukounaries is in the centre of a pine forest! If you enjoy shallow waters, then this will be the perfect spot. The Koukounaries beach is sandy, and the sea is crystal clear here.
The nearest town is Skiathos. You can rent a car, book a cab or travel by public bus. All modes of transport are easily available, and you can book them once you reach Skiathos.
Koukounaries is ideal for a family vacation. The large beach with shallow seawater is perfect for children. They can play around, build sandcastles and even have a picnic!
Vai
Vai is one of the best beaches in Crete, and it is also very special. It is the only beach in Europe with natural, towering palm trees! If you are looking for the perfect tropical vacation in Greece, Vai is the best place.
The Vai beach is accessible by road and you won't need to opt for a boat ride. Cabs and cars are available from the town of Heraklion. You can easily rent a car for the day and visit Vai. Cars usually take about a couple of hours to reach Vai.
You can rent a sunbed or an umbrella and lounge on the beach for a while. The beach is not too crowded, and you can easily get a spot to sit and see the sea with your family or friends.
Paradise Beach
If you are searching for beaches in Mykonos, then you cannot go wrong with Paradise Beach! The beach is one of the most stunning locations in Greece, and you can enjoy cool, turquoise waters. There are many sunbeds and large umbrellas that you can rent on the beach. You can also carry a towel and an umbrella and settle on the warm sand to get a nice tan!
To reach Mykonos, one can book a bus from Sofia to Athens and then take a ferry to Mykonos island. The easiest way to reach Paradise Beach is via public bus or car. Public buses are available from Mykonos Town, and they run throughout the day, till midnight.
Paradise Beach in southern Mykonos is perfect for every kind of vacation. You can visit with friends or plan a family trip. It is also great for a romantic vacation.
Navagio Beach
Navagio Beach is also known as the Shipwreck Beach and has a very interesting story attached to it. In 1983, a smuggler ship known as the "Panagiotis" was carrying contraband cigarettes from the coast of Turkey to Italy. Due to bad weather and a violent storm, the ship was wrecked, and the crew abandoned it on a cove near Navagio Beach. The cove is now known as "Smuggler's Cove"! Apart from its intriguing history, Navagio Beach today is extremely popular. It is one of the best places if you are planning to have a blast with your friends.
To reach Navagio Beach, you will have to take a boat from Zante or nearby places. You can also go on a boat tour and visit the Xygia Sulphur Beach and the Blue Caves after going to Navagio Beach.
The Navagio Beach is usually very crowded in July and August. But if you are tired of the crowds, you can stand on a clifftop and enjoy the breathtaking view of the beach and the sea!
While the locations mentioned above are some of the most popular and beautiful beaches in Greece, there are many more you can visit. One can book an Athens to Sofia bus and explore beaches like Marina Dinevi, Bolata, Sinemorets in Greece. The Red Beach in Santorini is particularly breathtaking. It is covered with bright red volcanic rocks.
While parts of this beach are blocked due to the active volcano, you can explore the parts. If you are looking for a few more stunning beaches, Mykonos, then Ornos Beach is a lovely place to visit. The beach has numerous restaurants and is great for families. You can have a picnic or spend the day and enjoy a tasty lunch at a traditional Greek restaurant. For those who love swimming in the sea, the Seychelles Beach at Ikaria is a great choice. The staggering cliffs, white pebbles, and clear, sea-green waters make this an amazing location.
Most beaches in Greece are easily accessible from nearby towns and cities. Before you visit, decide on the itinerary and choose a transport convenient for you. Plan your trip well and have a dreamy vacation on the best beaches in Greece! 
You may like to read: Cheap Travel Destinations in Europe