A lovely long vacation in the most beautiful and popular European locations is quite the dream for many travellers. However, if you are on a budget trip, there are several cheapest countries to visit in Europe that are affordable for almost every kind of tourist. When you plan your itinerary, be sure to include a visit to some of these cheapest cities in Europe and explore the wonderful culture of different countries. You can also plan a vacation on a tight budget by cutting unnecessary costs and focusing on having a good time. So if you are looking for cheap places to visit in Europe, please continue reading and discover the best destinations! 
Best European Destinations to Visit On a Budget
When you think of a European holiday, you might feel a little hesitant because of the usual costs. However, there are some fantastic places that cost very little. Take a look at the following places and plan a trip that suits your budget.
Sarajevo, Bosnia, and Herzegovina
Sarajevo, the capital of Bosnia and Herzegovina is one of the cheapest cities in Europe. While the city still bears the mark of its war-torn past, it is a beautiful place and worth a visit. The people of Sarajevo are friendly towards all tourists and you will love your time here. You can wander around baščaršija, the central district, and savour a pot of delicious coffee or explore the Ottoman bazaars. Nightlife in Sarajevo is also quite fun and you can go to local hole-in-the-wall pubs with your friends.
The best way to travel to Sarajevo is via bus. Buses from nearby cities like Bihać on a daily basis. You can also travel to Sarajevo via train from Mostar.
Beaches in Europe, especially on the Mediterranean coast are quite expensive. However, the Albanian coast has some gorgeous beaches and Albania is one of the cheapest countries to visit in Europe! The beaches of Saranda and Ksamil are perfect for a romantic getaway. From Ksamil, you can also visit some of the islands scattered on the beautiful blue sea. If you visit the southern coast of Albania, you will notice towering mountains and sparkling seas.
You can visit Saranda Beach via bus from Tirana. It is the cheapest mode of travel in Albania and you will find buses on almost every route. All beaches along the Albanian coast have stalls serving fresh and delicious seafood at very low rates. So you enjoy the perfect budget vacation!
Estonia belongs on the list of cheapest countries to visit in Europe and it has a marvellous coastline. The beaches in Estonia are perfect for a long summer vacation with family and friends. Along its Baltic coast, Estonia offers beautiful sandy beaches and national parks. You can stay at a beach resort in Pärnu or explore the Lahemaa National Park near Tallinn. If you want the best of both worlds, then you can plan a trip to Saaremaa island and spend a leisurely weekend on the beach, walking amidst pine trees or relaxing at a spa.
You can take a bus from Tallinn to Pärnu and then bike through Lahemaa National Park. You can also book a bus from Tallinn to Riga and enjoy some picturesque locations!
Palermo is one of the cheapest cities in Europe and is perfect for a glorious Mediterranean summer holiday. If you leave the Sicilian mainland behind and come to the capital Palermo, you will find it to be a perfect blend of modern and vintage charm. You can explore the churches in Palermo with beautiful mosaic tile designs or walk through the local markets. There are many roadside shops in the old Palermo markets that serve delicious panelle, arancini, and other local snacks. They make a tasty, yet very affordable lunch!
You can reach Palermo via bus and train. Buses and trains are available from the cities of Rome and Naples on a daily basis. Book a Palermo to Trapani bus ticket to add more fun to your trip!
If you love the mountains, then you should visit Bansko in Bulgaria. Bansko is on the Pirin Mountain Range. It is a picturesque haven for skiers and those who enjoy vacations in snow-covered locations. There are several ski resorts in Bansko and they are quite affordable. If you are looking for one of the cheap places to visit in Europe which is high up in the mountains, then you cannot go wrong with the gorgeous town of Bansko. The town is perfect for a family trip or a romantic holiday with your partner.
Buses and trains run from the cities of Sofia and Plovdiv to Bansko. They are the easiest and most affordable ways of reaching Bansko. Book a bus from Sofia to Bansko! You can also book a Sofia to Burgas bus and explore more beautiful places in Bulgaria on the way.
If you are looking for some more cheap places to visit in Europe, you can choose cities like Porto in Portugal or Leipzig in Germany. These places are cultural hubs and are great for a vacation with family or friends. As buses are the common modes of transportation in these countries, your travel costs will reduce and you can have the best budget vacation!
How to Save When on a Trip to Europe?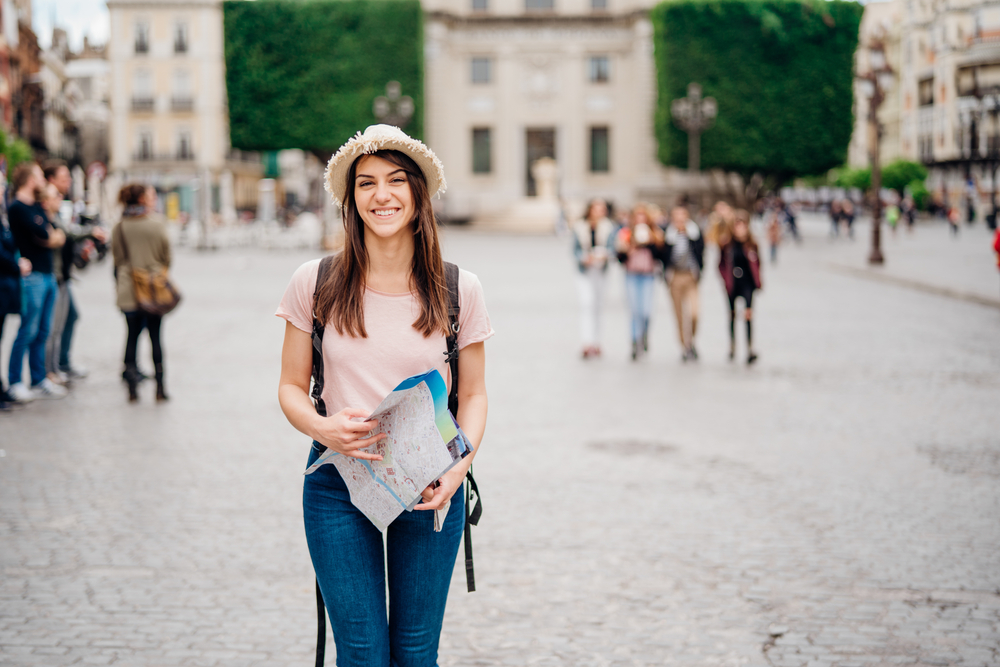 The cheapest countries to visit in Europe may not seem that affordable when you first look through them. However, you can curate your trip to suit the budget and save a lot of money when on holiday. To plan an affordable trip to Europe, keep these tips in mind.
When you visit the cheapest cities in Europe, choose the cheapest forms of travel. Opt for buses wherever you can as tickets are affordable.
Buy passes for public transport wherever available. Bus, train, and tram are the cheapest ways to travel in European cities. So pick up a pass and explore the locations on public transport.
Avoid renting private cars or choosing cabs when you go sightseeing. Instead, you can book a tour bus from the nearest city.
Look for hostels in every city you visit. If you are a solo traveller, you can share a room with others and this will make your accommodation much cheaper.
When you are choosing cheap places to visit in Europe, look for cities with lots of street food shops and pubs. These usually serve large portions of flavourful meals at low prices.
If possible, pack your lunch before leaving for a day trip and carry a bottle of water. Then you will not need to spend any money buying food or packaged drinking water.
Most cheap places to visit in Europe ensure free entry to historical buildings, museums, and parks. Visit these locations when on a budget.
If free entry is not available, look for city passes that are usually available at the airport. City passes will allow you to enter several museums and galleries at subsidized rates. You will not even have to stand in queues.
Make sure you are not packing too many suitcases, especially when travelling with family. Airlines often charge extra and you might not be able to travel via bus because of your luggage.
Certain destinations in Europe are perfect for a family trip or a vacation with friends. You can also find the cheapest countries to visit in Europe for a honeymoon. Look through the list above and carefully choose the location that is most convenient for you. The cheapest cities in Europe offer some of the best resorts, hostels, and hotels. You can easily pre-book them and have a comfortable stay, once you reach your destination. So don't hesitate and find cheap places to visit in Europe today! 
You may like to read: Backpacking in Europe