The great news is that you can budget travel to Madrid. Being the capital of the country, it has a lot of life, both in the day and at night. You could say that is the city that never rests. Madrid is the only city that is less than two hours away from all the World Heritage Sites. Madrid is tourism, culture, art, history, music, theatre, in short, life. The most surprising thing about this city is that you do not have to pay a lot of money to visit it. 
There are some tips that you should take into account in order to have a budget-travel to Madrid. You should know that there are free activities, cheap places, low priced food and above all some tricks to save money on transport. Here's a little bit more about the city and the tips for a budget travel to Madrid.
Transport
First, you should know that travelling by bus in Spain allows you to visit many cities at a low cost and this is not only limited to Madrid. It is very easy to find a Seville to Madrid bus, Zaragoza to Madrid bus, Segovia to Madrid bus, or Alicante to Madrid bus. In general, it is very easy to find round trips to Madrid from many places in Spain.  To ensure a low price it is recommended that you search and book your bus tickets at least 15 days in advance on redBus, this way you can get the best Madrid vacation deals.
Once in the city, you should know that the metro is one of the best options to get from one point to another. It is fast, easy and you will find directions at every station. You must download the current metro map of the city so that you can familiarise yourself with it and find it easier to get around. The metro runs from 6:00 am to 2:00 am, which means you can count on it all day and most of the night. As for the price, it is wise to not buy a single ticket, as the price may vary depending on where you are going. Consider buying a voucher of 10 with a fixed price of 12,20 EUR, which almost halves what you could spend buying a single ticket.
On the other hand, there are tourist passes that allow you unlimited travel on the metro and buses. The price varies depending on the area you want to access and the number of days you plan to be in the city. Evaluate your transport needs to see if this is really the best option for you.
Accommodation
It is true that being the capital of Spain, Madrid may have higher prices. However, as said previously about transport, if you book well in advance you will have a better chance of getting a good price. If you book 15 days in advance you can save from 10 to 20% depending on the type of accommodation you choose. Another thing that will allow you to save some money on accommodation is to consider a hostel. Hostels in Madrid are sometimes even better than a hotel.
Meals
Food will be whatever your palette craves for in Madrid. If you do not want to spend a lot of money, you do not have to. Here are some tips that may help you.
Try to focus on local restaurants and bars that are not located in touristy places.
Take advantage of the menus, usually restaurants offer three-course meals that also include coffee and bread.
Take the opportunity to eat between 13:00 and 16:00 when the restaurants have special offers on the menu of the day.
Enjoy Tapas. In some bars in Madrid when you order a beer you, get a free tapa. So, you can relax and have a drink, and get a meal to go with it!
Activities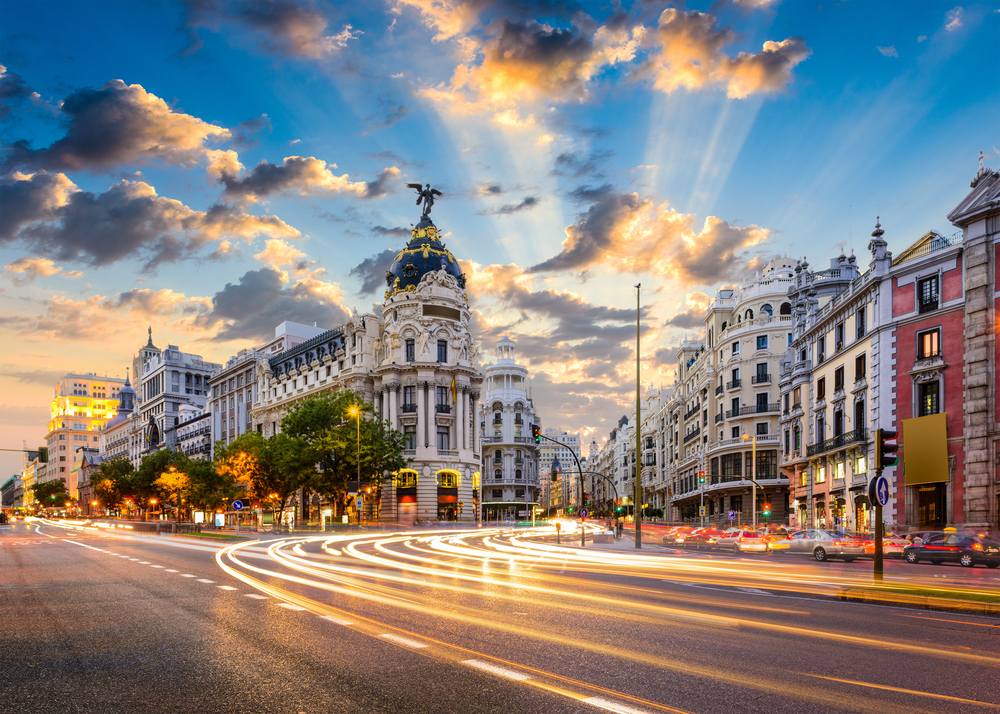 There are several things to do in Madrid, many of which are free or very cheap. To begin with, Madrid is a city with a lot of history and culture. There are many monuments such as the Plaza Mayor, La Gran Via or the Royal Palace that will transport you to another era and let you discover a little bit of the history of this city. Besides the monuments and buildings, you cannot miss the parks. In Madrid you will find beautiful parks, one that you cannot miss is the Retiro Park. This Park is iconic and inside you will find the Crystal Palace.
In addition, if you are interested in museums there are several museums you can visit for free:
Neomudejar: an alternative arts centre.
Espacio Fundacion Telefonica: here you will find different exhibitions related to technology.
Casa Museo Lope de Vega: This museum is where Lope de Vega lived his last years.
Anden cero: this place used to be a metro station.
Also, note that some paid museums offer free access on certain days at certain times. Here are some of the most popular ones. There are many others that offer this benefit before visiting them so do check these schedules.
Museo Nacional Del Prado: Admission is free from Monday to Saturday between 18:00 and 20:00. On Sundays and public holidays it is free from 17:00 to 19:00.
Museo Nacional Centro de Arte Reina Sofía: Admission is free from Wednesday to Saturday from 19:00 to 21:00. On Sundays, it is free from 15:00 to 19:00.
Museo Thyssen-Bornemisza: Admission is free on Mondays from 12:00 to 16:00.
Besides this, you should know that Madrid is a very safe city and this is reflected in its nightlife. The parties usually start after midnight and continue. What is certain is that you will find friendly people 24 hours a day. In Madrid, you will always find something to do or discover. Now that you are armed with all this information, you can plan your budget travel to Madrid, enjoy your trip and get to know this magnificent city!
You may like to read: Top things to do in Zagreb