Marked as the birth of Jesus Christ, Christmas is a popular festival among Christians in London. London is one of the best places you can be on Christmas. Many London Christmas markets offer a lot of fun to visitors. From Christmas gifts to hot snacks and wine, London Christmas Market offers it all. Usually, the Christmas markets open around the 25th of December and last till the new year. London has an excellent road transportation system so you won't be having any trouble in reaching any London Christmas market. Read on to know the best Christmas markets in London. 
Southbank Centre Winter Market
Located close to the South Bank of the Thames River, this market is one of the most popular Christmas markets in London. It opens somewhere around November and lasts till the new year month. It is located close to Westminster and offers a scenic view.
At night, the wooden chalets in the market are lit and offer a beautiful view of the Thames River. If you are into getting handmade gifts for Christmas, you can visit the Southbank Centre Winter Market.
The most popular food items of Southbank Centre Winter Market are chimney cake, waffles, and barbecued bratwurst. Gluhwein wine is also a popular drink that attracts people to this market.
You can get Christmas gifts like jewellery and wooden toys from this market at affordable prices. Besides offering snacks and gifts, this London Christmas market also hosts several events. For example, Slava's Snowshow at the Southbank Centre Winter Market is quite popular.
Zero Waste Market
Zero Waste Goods which is an event company in the UK organises Christmas markets in London every year. Every year, the Zero Waste Christmas Market is organised in November.
Zero Waste Goods advocates for sustainable development and lays the path for other businesses to follow. You can visit their official website to know about the exact dates of their upcoming Zero Waste markets.
Zero Waste Market is one of those London Christmas markets that will offer you sumptuous food and attractive gifts to choose from. Besides organizing markets around Christmas, Zero Waste Goods also organizes markets in other months of winter. You won't have any issues in reaching the market location as the local bus transportation system in London will aid you.
Christmas by the River
Christmas by the River is one of the many markets hosted on the banks of river Thames. The best of London's Christmas lights can be found in this market. The exact location of this London Christmas market is across the River Thames and near the Tower of London.
The beautiful view of the River Thames and the Tower Bridge mesmerises the visitors. There are around 70 wooden stalls in this market that sell different types of Christmas gifts.
People who come to London Bridge often visit this market. Many people come from viewing the River Thames below the London Bridge via the glass pane. The London Bridge is around 40 metres high from the River Thames and is a great spot for a Christmas market.
Hyde Park Winter Wonderland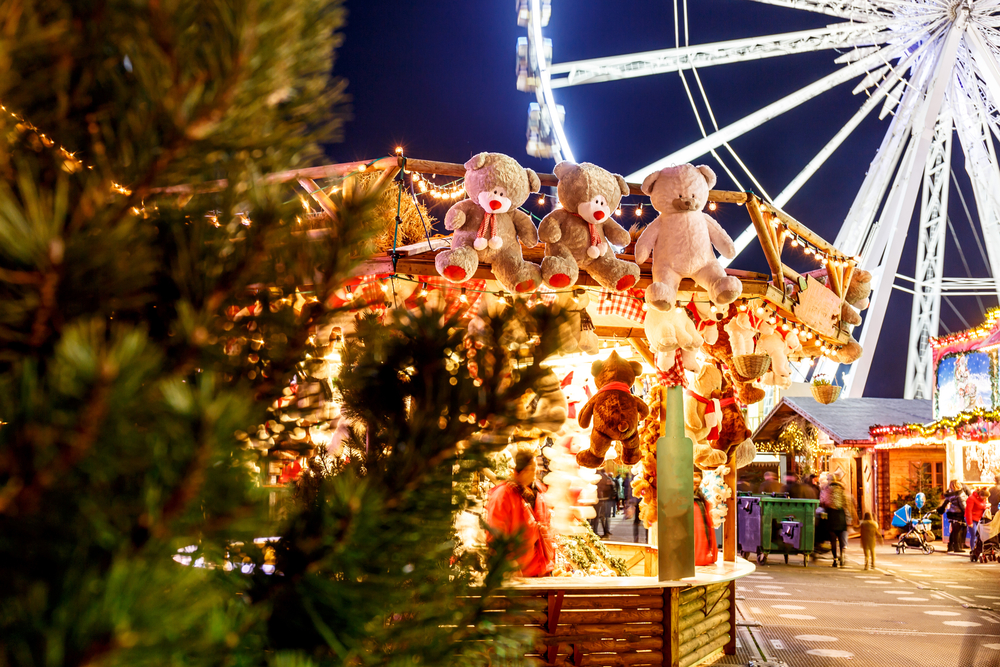 Hyde Park Winter Wonderland is one of the biggest London Xmas markets. From London's Christmas tree to sumptuous food, Hyde Park Winter Wonderland offers it all.
This market starts around mid-November and lasts till the new year. There is no entry fee for this place but it can get really busy with many visitors from all parts of England. The Bavarian village at the Hyde Park Winter Wonderland is the major attraction as it offers around 100 stalls for Christmas presents and decoration.
Fairground rides and ice sculptures in the Bavarian village act as a popular selfie point for visitors. You will have to pay for the Fairground rides and ice skating at the Bavarian village.
This London Christmas market also consists of a giant observation wheel for enjoying the top view. Many people also visit the Royal Albert Hall after visiting this market. Royal Albert Hall is located close to this London Christmas market and showcases Christmas-special shows.
Greenwich Christmas market
Located within a World Heritage Site, the Greenwich Christmas market has a lot to offer. This London Christmas market offers a range of Christmas goodies to choose from. There are approximately 150 Christmas stalls in this market that can offer a range of Christmas presents. Many people coming to the Greenwich Christmas market head to Greenwich Park for scenic views of the London city.
The shops at Greenwich Christmas market offer the best London's Christmas lights at affordable rates. Currently, the dates for the Greenwich Christmas market are not decided due to the COVID scenario. You can visit their official website to know about the latest Christmas market information.
Besides the aforementioned London Christmas markets, there are many other markets in the city. Other popular London Christmas markets are Kingston Christmas Market, Eccleston Yards Christmas Market, Selfridges Christmas Market, Westfield London Christmas Market, and Christmas under the canopy.
You can book a bus to any of the London Xmas markets easily via an e-ticketing platform. Bus services to any borough market Christmas are available at affordable rates in London.
Where to book bus tickets for London Christmas markets?
redBus is the perfect e-ticketing platform for booking bus tickets to/from London. You can choose a drop-off point in London that is near to your favourite Xmas market. Since London has a great connectivity by bus to Oxford, you can also book a London to Oxford bus or Oxford to London bus online easily and enjoy Christmas festivities in both the cities. Besides the UK, redBus is servicing in many other countries and is the biggest bus e-ticketing company in the world. 
redBus allows you to visit the London Christmas market by catching a bus from different cities. Bus services on redBus to London are available from Luton, Oxford, Bricket Wood, and Lewknor. The rates for booking London bus tickets on redBus are reasonable.
Christmas is an auspicious occasion, and you can celebrate it with your family/friends by visiting London Christmas markets. Each London Christmas market has something unique that makes it popular. The well-organised bus transportation system of London will help you in getting to different London Xmas markets. Visit London for a memorable Christmas evening!  
You may like to read: Christmas Festivities You Must Participate in Vienna